therapist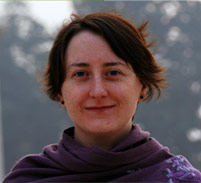 Eimear is a qualified holistic therapist who obtained her Holistic Diploma after three years studying in Senior College Dun Laoghaire.
Eimear extended her studies in China where she completed extra training and practical TuiNa experience in various hospitals in Hangzhou (South West of Shanghai) in 2005. Since returning from China, Eimear's interest in Traditional Chinese Medicine has increased and she has graduated from Lansdowne College of acupuncture where she studied acupuncture for 3 yrs with Dr. Vincent Carroll. Dr. Carroll is a western Medical Doctor trained in Chinese Medicine so his teaching provides a multidisciplinary approach to healing including training in clinical medicine.
Prior to her career as an acupuncturist and holistic therapist, she graduated from University of Ulster with an Honours Degree in International Business Communications. She worked for a number of years in the financial sector before changing her career. Having spent time working in the corporate world, Eimear understands the stress and pressure that people experience and how this can affect the body and mind.
Eimear has worked as a professional therapist since 2005. During this time she has worked with a number of busy clinics in Dublin. She has also worked in several promotional events and companies providing on site chair massage treatments.
Her experience to date as a therapist has created a strong belief in the importance of complimentary medicine, with emphasis on looking at each person individually and with a holistic approach.
Eimear is a member of the Acupuncture Foundation Professional Association (AFPA) and the Irish Massage Therapist Association (IMTA).
Prenatal massage
Eimear successfully achieved a certification on a Well Mother course for prenatal massage under Suzanne Yates who is a guru for shiatsu and pregnancy massage workers :)
Since then, Eimear has given countless massages to many different mothers to be, from first timers to mums with 3 children and expecting twins! They have all come to her at different stages in their pregnancy, but as Eimear has a specific qualification for pregnancy, mums to be can come during the first trimester to right up to before they are due or overdue in some cases! ( regular massage therapists will refuse to treat during the first trimester as it is the most volatile period and it is a general contraindication).
Eimear is also a qualified acupuncturist and she has helped first time mothers to either help turn their baby using moxa or, for those who have gone over their due date, help speed up the induction of their babies with acupuncture (or acupressure if they are afraid of needles). She has also shown a number of partners massage techniques to help ease the mothers' pain during labour.