acupuncture

Traditional Chinese medicine is a powerful, safe, and drug free system of medicine recognized by the World Health Organisation for its effectiveness in over 100 health complaints.
For more information see our FAQs and testimonials.
PRICES: 1 hour €70 | 45 mins €55
Acupuncture is an alternative medicine methodology, and one of the main forms of treatment in Traditional Chinese medicine, that treats patients by manipulating fine, disposable needles to regulate the circulation of Qi, or energy in the body through channels known as meridians.
In acupuncture, needles are inserted at various very specific points (acupuncture points) in the body to help bring the body back into balance, be that in a physical, mental or emotional state.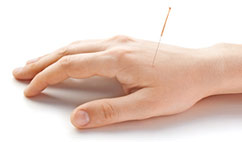 Traditional Chinese medicine also includes moxa, cupping, TuiNa and Acupressure.
Moxa is where a shouldering stick of compacted herbs is held close to the needles, or acupuncture points, as a heat treatment.

Cupping is where glass cups are placed on the body in a way which creates therapeutic suction.

TuiNa is a Chinese massage technique which may be applied in cases where the problem is more physical.

Acupressure can be used when there is a fear of needles. Direct thumb pressure is applied to the acupuncture points instead of the needles.
Eimear is a member of the AFPA (Acupuncture Foundation Professional Association) and clients who have private health insurance can claim back money from their treatments.
Benefits of acupuncture:
Acupuncture treats a wide range of disorders as well as helping maintain general well being. The below is just a number of conditions that acupuncture can help with:
Acne, Allergies, Anaemia, Anxiety, Arthritis, Asthma

Back pain, Bell's palsy

Constipation, Chronic Fatigue Syndrome

Depression, Digestive and Bowel Disorders

Eczema

Frozen Shoulder

Hay Fever, Hypertension

Indigestion, Impotence, Infertility, Insomnia

Menopause, M.E. and lack of energy, Migraine and headaches, Menstrual disorders, Muscle & joint problems

Nervous problems

Oedema

Pain, Palpitations, PMS, Panic attacks

Quit Smoking

Rheumatism

Sciatica, Sinusitis, Sports injuries, Stress, Stomach disorders, Tinnitus

Urinogenital disorders